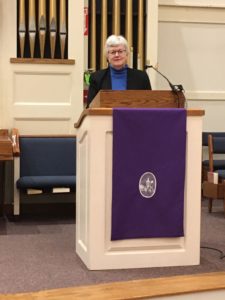 Rev. Hatch graduated from seminary in 2005 and was called to interim ministry. She has served eight Maine UCC churches as an interim pastor since then.
Rev. Hatch lives in Ellsworth and will be commuting to Auburn. She has accepted a three-quarter time call.
Rev. Linda will be working from home until the Covid-19 crisis is over. Her work days are Sunday morning, Tuesday, Thursday and Friday mornings and Saturday.
Pastor Linda will take pastoral calls anytime on her cell: 207-356-7573.
A Note from Pastor Linda
As things
gradually
re-open in our state and in our church, it is perhaps a bit like May. It felt good to write the May date on the top of the bulletin for Sunday. There is with May a promise of things opening, like new green leaves out of April buds, flowers out of bulbs, and green grass springing up out of winter-brown grass. There is a tinge of green on the hills across the lake and the breeze blows a little softer.
We come out of our cocoons a bit slowly, carefully and know it is okay to take some time to experience new ways of being in the world, new seeing of what we are called to do, and how we each do that best amid enormous loss and instability all around us. We emerge needing to keep safe and reflective in our openness to how different each person's experience and loss may be from our own. We each find a way through to new expectations and let go of the old ways that will not return.
We are all held in God who encompasses our diverse needs, experiences and budding hopes. May we ever listen beyond ourselves, accept and frame our own needs, and work through to meet others where each is and wants to be, held in God's purposes for our lives together as Church.
Peace and hope, Linda