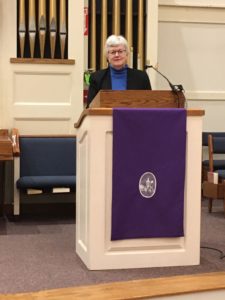 Rev. Hatch graduated from seminary in 2005 and was called to interim ministry. She has served eight Maine UCC churches as an interim pastor since then.
Rev. Hatch lives in Ellsworth and will be commuting to Auburn. She has accepted a three-quarter time call.
To start with she will be working in Auburn on Tuesday, Thursday, and Sunday, and will do other work from home.
"Jesus Prayed" Palm/Passion Sunday 4-5-2020
Things now and for some time to come will not be as we are accustomed to. We cannot meet in our church sanctuary. We are not celebrating Holy Communion today or in the coming Holy Week, which usually has its beautiful Maundy Thursday service of Tenebrae that helps us remember in a stirring way the Last Supper. May we see those ways of being blessed by our sacrament of Holy Communion as the true gifts they are. And may we see our not having them as a part of our "Sheltering -in-Place", as the way needed to keep lives safe ever knowing each life is special in God.
May we know the presence of Christ with us through this time in new and needed ways of being church. I bring today the picture of a fruitful grape vine and I have with me (on Zoom) a grape ivy plant. The plant came originally from the old stone church in Northeast Harbor, a sister UCC church. We are each a part of the growing and ongoing vine that John tells us about in his Gospel (chapter 14). Jesus says, "I am the true vine and my Father is the Vine grower. Abide in me as I abide in you." He also says, "ask for whatever you wish, and it will be done for you."
This Palm /Passion Sunday usually has much excitement about the Palms.. But that Palm story is short lived for Jesus. Jesus rides on the donkey with his feet almost touching the ground as he moves quickly on into his journey through Holy Week and to the cross. He is grounded in knowing the way ahead will be difficult, The palms fall behind him. But the vine is ever with him in love and that vine is not lost as it will bear fruit for this world and we are a part of that.
Henri Nouwen says, "We must be rooted in the permanent, intimate relationship with the incarnate Word, Jesus." As those who believe and follow Jesus, we abide, rooted, in relationship to Jesus. True vine, well- rooted and nourished, gives it shoots power to move and grow and even bear fruit over time. And as each one of us is a part of the vine, our relationship with one another is also a part of Jesus, come from God. Jesus words are, "love one another as I have loved you." It all comes together. Jesus is relationship and holds us in his abiding, loving relationship with God, the Father, as read today from Matthew.
Before those ten verses Lori read, a woman anoints Jesus at Bethany, preparing him for burial, Judas betrays him for money, it is Passover, The Last Supper for Jesus and his friends and disciples. And they end their time singing a hymn together as they go to the Mt. of Olives.
(The reading from Matthew)
Then Jesus went with his disciples to a place called Gethsemane, and he said to them, "

Sit here while I go over there and pray

." He took Peter and the two sons of Zebedee along with him, and he began to be sorrowful and troubled. Then he said to them, "

My soul is overwhelmed with sorrow to the point of death. Stay here and keep watch with me

."
Going a little farther, he fell with his face to the ground and prayed, "

My Father, if it is possible, may this cup be taken from me. Yet not as I will, but as you will

."
Then he returned to his disciples and found them sleeping. "

Couldn't you men keep watch with me for one hour?

" he asked Peter. "

Watch and pray so that you will not fall into temptation. The spirit is willing, but the flesh is weak.

"
He went away a second time and prayed, "

My Father, if it is not possible for this cup to be taken away unless I drink it, may your will be done.

"
When he came back, he again found them sleeping, because their eyes were heavy. So, he left them and went away once more and prayed the third time, saying the same thing.
Then he returned to the disciples and said to them, "

Are you still sleeping and resting? Look, the hour has come, and the Son of Man is delivered into the hands of sinners. Rise! Let us go! Here comes my betrayer!

"
I want to take the time to say just Jesus' words slowly and hear the power in them for himself, his followers and us today.
Jesus prayed and prayed and prayed. He is answered in the doing of God's will, He is obedient unto death on a cross. And this scripture shows the depth of who he is, his humbleness answered in strength and purpose, living out of God centered and merciful love for all … including those who slept, betrayed, ridiculed and put him on a cross. He was who he was and whose he was to the end. This is the One, the name of whom should cause us to be on our knees and confess that Jesus Christ is Lord. I think we can only do that if we too, pray and pray and pray, and find the courage, the strength, to watch with others in their hours of need. Where is our Gethsemane? And who might we find there, as well as Jesus?
Hope is what comes of being rooted deeply in the love that is emptied like the cup, which can then be filled and drunk deeply in an obedience that lives close to Christ in suffering, loss, grief and compassion for others as we pray and pray and pray.
The words after this Gethsemane story are that "the scriptures will be fulfilled."
It is all in God's hand. As the prophet Isaiah says, "It is the sovereign God
who helps me." And that help comes ever out of prayer and is so needed in this deeply troubled world and time. All comes out of our relationship in Christ with God, abiding ever in that vine that moves and grows and reaches ever toward the light. And maybe just maybe it takes more than one prayer, maybe it takes over and over and over because that may be the way of God with us too, as it was with Jesus in Gethsemane. The vine has to be deeply nourished to bear fruit and every time we pray we are pruned and fed in some needed way by God's grace. Amen.