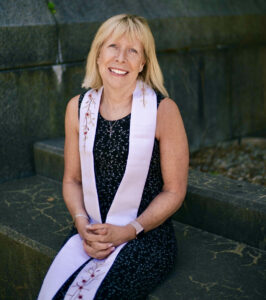 Introducing Rev. Debbie Rogers Duval
On Sunday, June 6th the congregation of High Street Congregational Church voted to accept the Search Committee's recommendation and affirm the call to Rev. Debbie Duval to be our settled pastor. We are thrilled to have such a warm and dedicated pastor and we look forward to many years of ministry and fellowship with Debbie in the greater Auburn/Lewiston community.
Debbie currently resides in Framingham, MA, and is a member of the Wellesley Village Congregational Church in Wellesley, MA. She is a graduate of Andover Newton Theological School and was ordained into Christian Ministry with the United Church of Christ in December 2020. For the past two years, Debbie has served as a pastoral resident in the Urban Pastoral Ministry Program at the Fourth Presbyterian Church of South Boston (www.fourthboston.org) and City Mission Boston (www.citymissionboston.org). She has been very active in ministries for the unhoused, those experiencing trauma, and those facing food insecurity.
The Senior Pastor at Fourth describes Debbie as having "a warm and engaging speaking style in preaching, teaching and worship leading; one that invites people in." He also expressed that she is skilled at connecting with people and says, "Deb has a big heart and this animates her ministry. Congregants, neighbors, and 'those we serve' all feel seen and appreciated by Deb."
Debbie has extensive experience serving her home church in every capacity imaginable, and has been involved with Star Island (
www.starisland.org
) for many years. Prior to entering the ministry, Debbie enjoyed an extensive career in property management. She and her spouse, Duncan, have three grown children and five grandchildren. Debbie has summered in Weld, Maine since childhood.
Debbie will be completing her ministry in Massachusetts over the summer and will begin serving our church on September 5th.