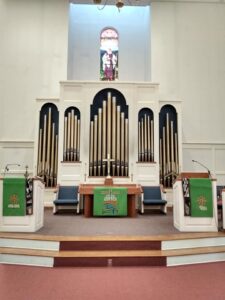 Like many churches, we seek to understand the COVID-19 virus and its implications on in-person worship. We continue to evaluate the situation and seek guidance from state, local and church leadership on the best way and timing to reopen for in-person worship.
Until then, we gather at 10:00 a.m. on Sunday morning for a traditional worship experience by ZOOM. Hymns are sung, scriptures are read, and we lift each other's burdens to God in prayer. Our pastor delivers a lively, and usually interactive message that is easily related to the scripture passages as well as our everyday lives. No matter who you are, or where you are on life's journey, you are warmly and genuinely welcomed here!
CLICK HERE
to join our Zoom worship services.